Apply Now Professional Fellows Program YSEALI Civic Engagement Fall 2018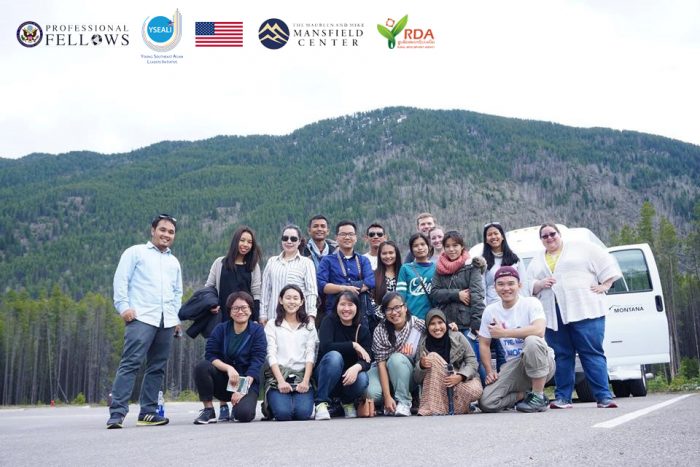 APPLICATION DEADLINE: 30 March 2018
 Online Application Click Here
[Fully Funded Fellowship Program in USA]
Welcome to the fall 2018 Application to the Professional Fellows Program for Laos! RDA and the Mansfield Center of the University of Montana is please to call for Lao natioality with age of 25 to 35 year-old to apply for our fellowship program in Montana, USA.
The YSEALI Professional Fellows Program is a professional development exchange program for the best and brightest community leaders from ASEAN, working in the fields of civic engagement, economic empowerment, environmental sustainability, and governance and society. The YSEALI Professional Fellows Program provides participants a month-long fellowship at U.S.-based non-profit organizations, government offices, legislative bodies, or private sector organizations. Fellows will work with community leaders to enhance their practical expertise, leadership skills and professional contacts to address issues in their home communities.
YSEALI programs strengthen leadership development and networking in ASEAN, deepen engagement with young leaders on key regional and global challenges, and strengthen people-to-people ties between the United States and young Southeast Asian leaders. The YSEALI Professional Fellows Program is part of the broader Professional Fellows exchange program.
Learn more about the Professional Fellows Program and YSEALI.
All applications must be completed and submitted by midnight, March 30, 2018 in your home country's timezone.
Please note that this is one of numerous Professional Fellows. You are restricted to applying to one Professional Fellows Program during the fall 2018 application.  If it is determined that you have applied to more than one Fellows program during this application period, your application will be deemed ineligible and your name will be removed from consideration.
To submit application please click here for online application or email the completed Word form  to Chanthalangsy Sisouvanh at chanthalangsy@rda.org.la.